In the beginning…
The TCTOP story began in 2011 when groups with an interest in traditional orchards met together to see what could be done to halt their decline.
We wanted to work with experts and local volunteers to restore, improve, understand and enjoy Three Counties Traditional Orchards.
It soon became clear that grant schemes used in the past to restore traditional orchards had not really worked. Using contractors to carry out orchard work only provided short-term benefits. In addition, there was a real shortage of people with specialist orchard skills.
The TCTOP group decided to try a different approach and focussed on a few geographical areas. To keep the skills and knowledge in the community, we also decided to involve the owners and local people in the orchard restoration.
Inspiration in Colwall
We were inspired by the Colwall Orchard Group (COG), which began with two enthusiasts who wanted to save the village's unique orchard landscape.
COG persuaded local orchard owners to let them restore their orchards and they trained local people to help them do it. Ten years on they are still active in the village. The group has over a hundred members and looks after 30 orchards, helping to keep their orchard heritage alive.
The Heritage Lottery Fund
We drew together proposals for a project based on this idea and submitted it to the Heritage Lottery, getting approval for development funding.
In 2014 we submitted our full proposals to HLF and were delighted to be awarded a grant of £332,000. The project covered seven traditional orchard areas across the Three Counties;
Delivering the project
The work was co-ordinated by a project officer and practical training was delivered in our project orchards by mentors from our three 'skills hubs'..
We used local experts to survey the orchards for wildlife, fruit varieties and historical features. They also provided skills training, events, celebrations and walks and talks.
The project has been a huge success, thanks to our committed group of expert orchardists and a fabulous network of enthusiastic volunteers.
HLF gave us an extension so that the project has run for 4 years. We have become the 'go to' place for orchard news, views and expertise in the Three Counties.
Legacy
Our legacy is the restoration of 34 orchards, the training of the people in orchard communities, the revitalisation of local groups and the recruitment of our amazing Orchard Champions who are 'flying the flag' for traditional orchards.
Our project area in 1917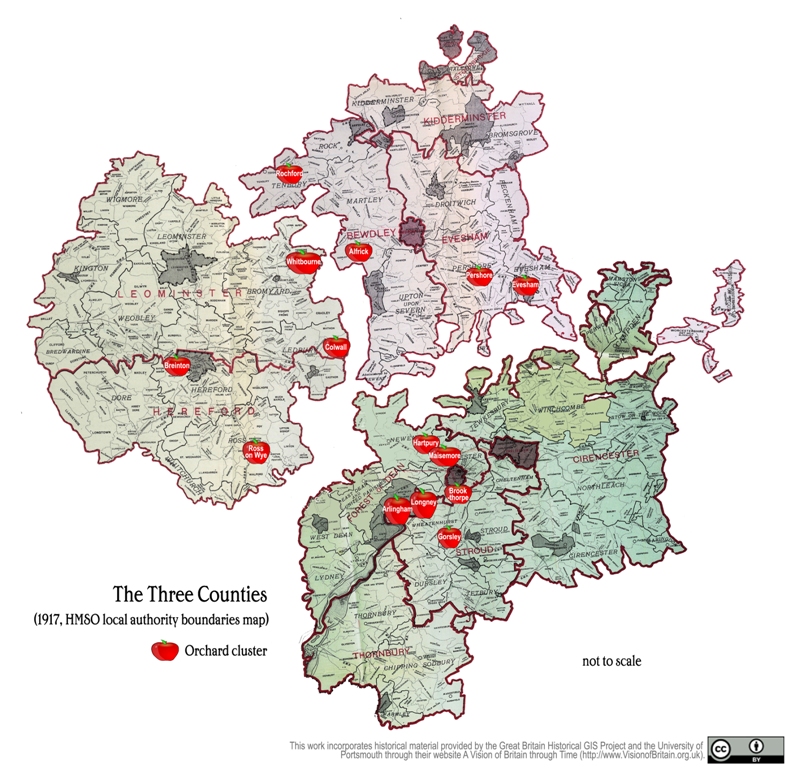 Our project area today